Today we announce the selection of our professional jury! Discover their 10 favorite posters among the 1935 artwork we received ?. The jury was chaired by Malika Favre, graphic artist and designer of the 2017 Festival poster, Stefano Stoll, director of Festival Images Vevey and Alexis Georgacopoulos, director of the Lausanne ECAL/École Cantonale d'Art.
These 10 shortlisted posters will be printed in a 50×70 cm format and sold throughout the Festival network, in limited runs of 100. For every poster sold, the artist will receive a 20% commission on the sale.
Get ready to vote for your favorite artwork on our Instagram profile until April 27 at 5pm (CET) ? 1 like = 1 vote. The poster with the most likes will win the Public Price (CHF 3000).
Stay tuned for 1st, 2nd, 3rd prices and Vaudoise price on April 29!
ANNA LUKYANOVA (PL)
"Jazz again and again"
ARIADNA SYS (RU)
"Pretty girls grow a jazz garden"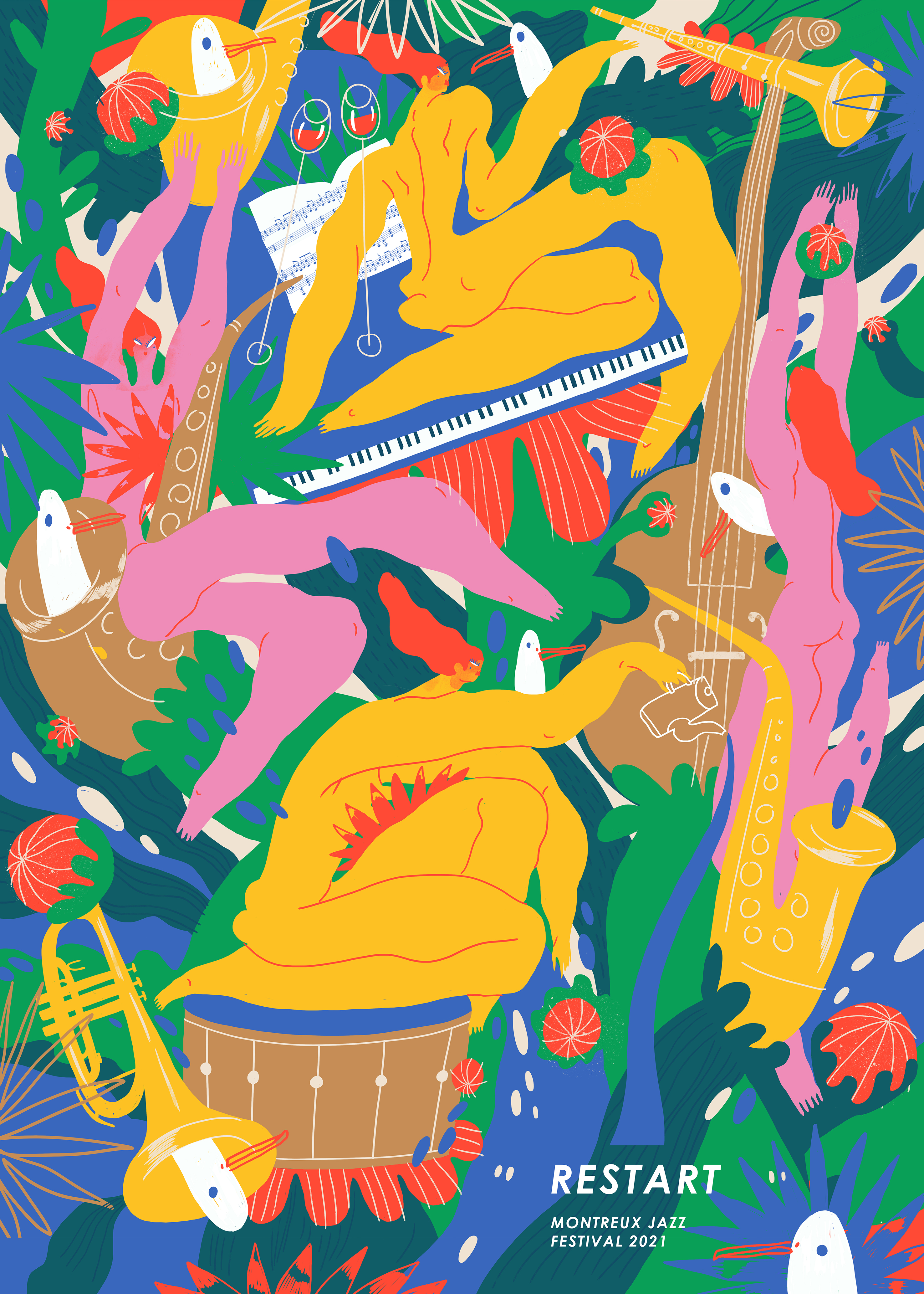 EVA TEMPONERA (GR)
"A piano key as a restart button indicating the necessity and almost emergency of a new starting point. A notice revealing the end of anticipation and the chance for a new beginning in other terms and arrangements."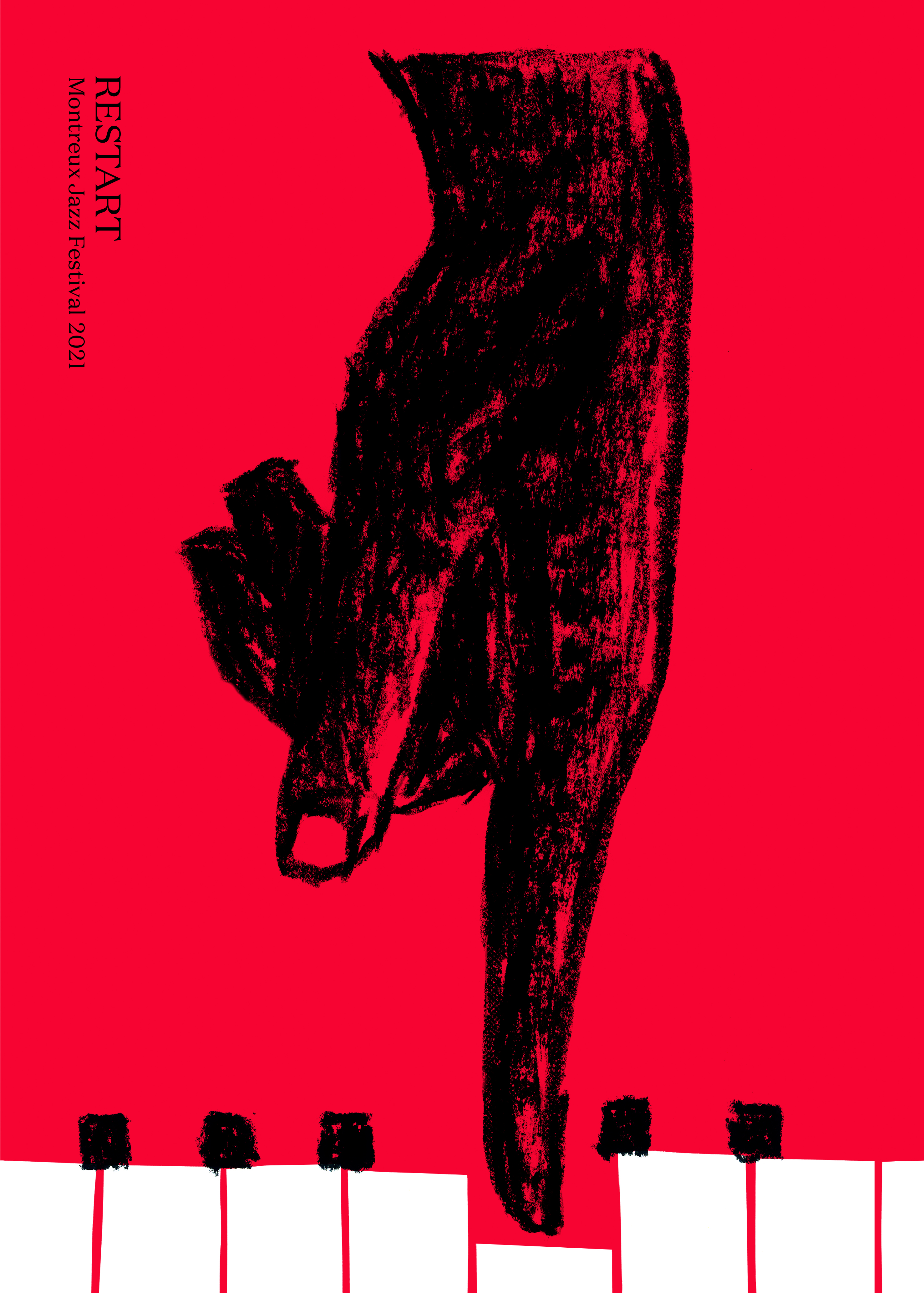 FEDERICO TRAMONTE (IT)
"During these suspended times we're all craving for the first chord to break the silence."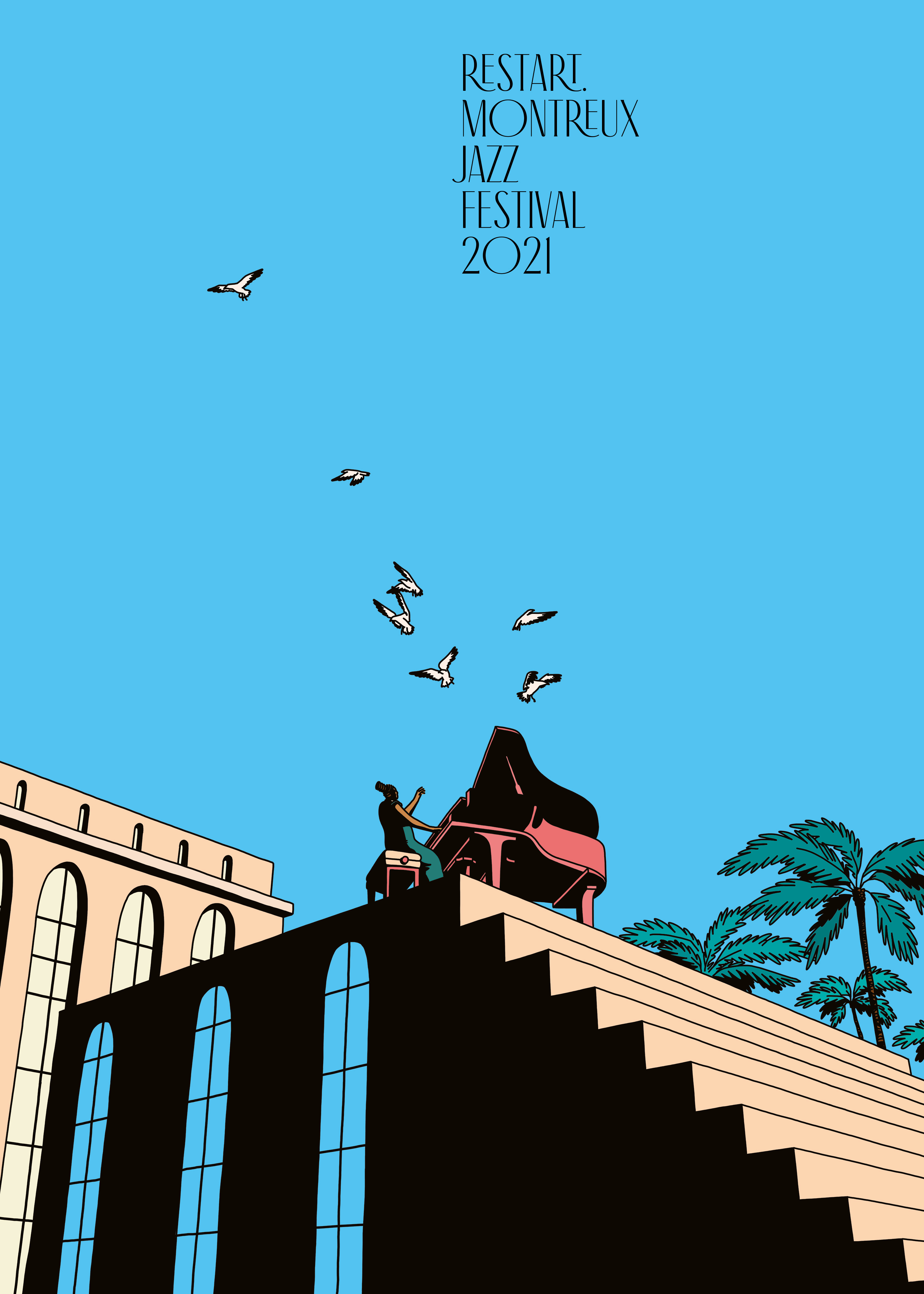 JAMY HERRMANN (CH)
"Entre silhouette et lumière, instrument et reconstruction, une lueur d'espoir demeure. On pressent que quelque chose renaît et rythme peu à peu l'instant. La scène s'illumine à nouveau en repartant de plus belle. La fin d'un calme qui laisse place à une magnifique tempête, à l'instar de la vie qui reprend. C'est de ce moment en suspens que se base ma proposition."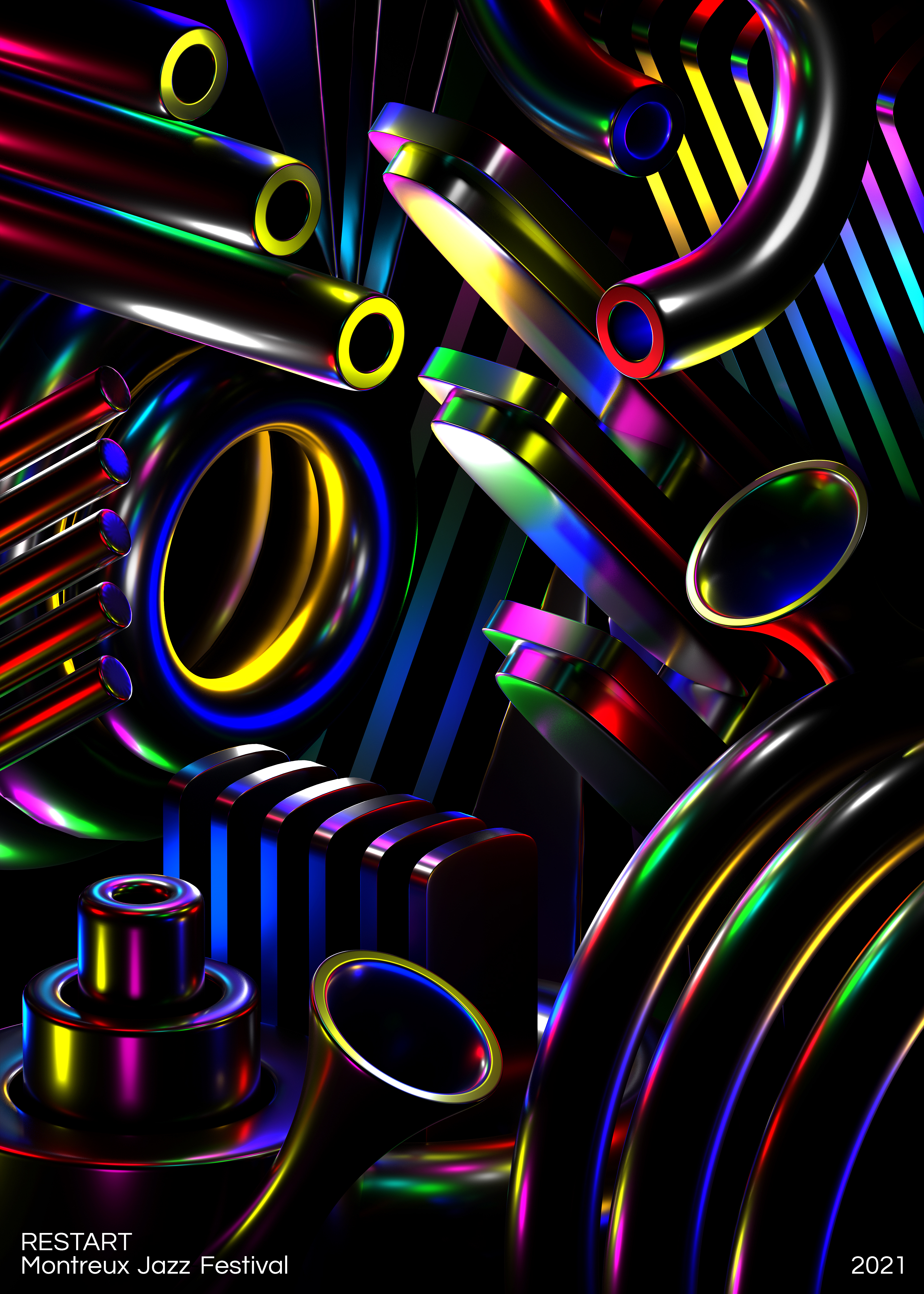 JOCELINE STREBEL (CH)
"RestART ohne Kunst und Kultur wird's still. Keine Konzerte, keine Theatervorstellungen, keine Kinobesuche und auch die Museen waren geschlossen. Mit diesem Plakat wollte ich das erwachen der Kunst in den Vordergrund stellen. Die "Einschränkungen" haben das Leben langweilig und starr werden lassen. Die Wiederholung des Wortes "Restrictions" in schwarzen Buchstaben erzeugt eine Schwere. Die Repetition des gleichen Wortes visualisiert die Eintönigkeit. Durchbrochen wird diese schwarze Wand durch die Kunst. Farbig, frech und locker poppt das Wort "Art" auf und so wird aus "Restrictions" "Restart" und aus "Restart" restart Art."
JOURI TOREEV (BY)
"The energy of jazz has accumulated in the plane of the poster sheet. Music wants to break out. She is ready to reboot."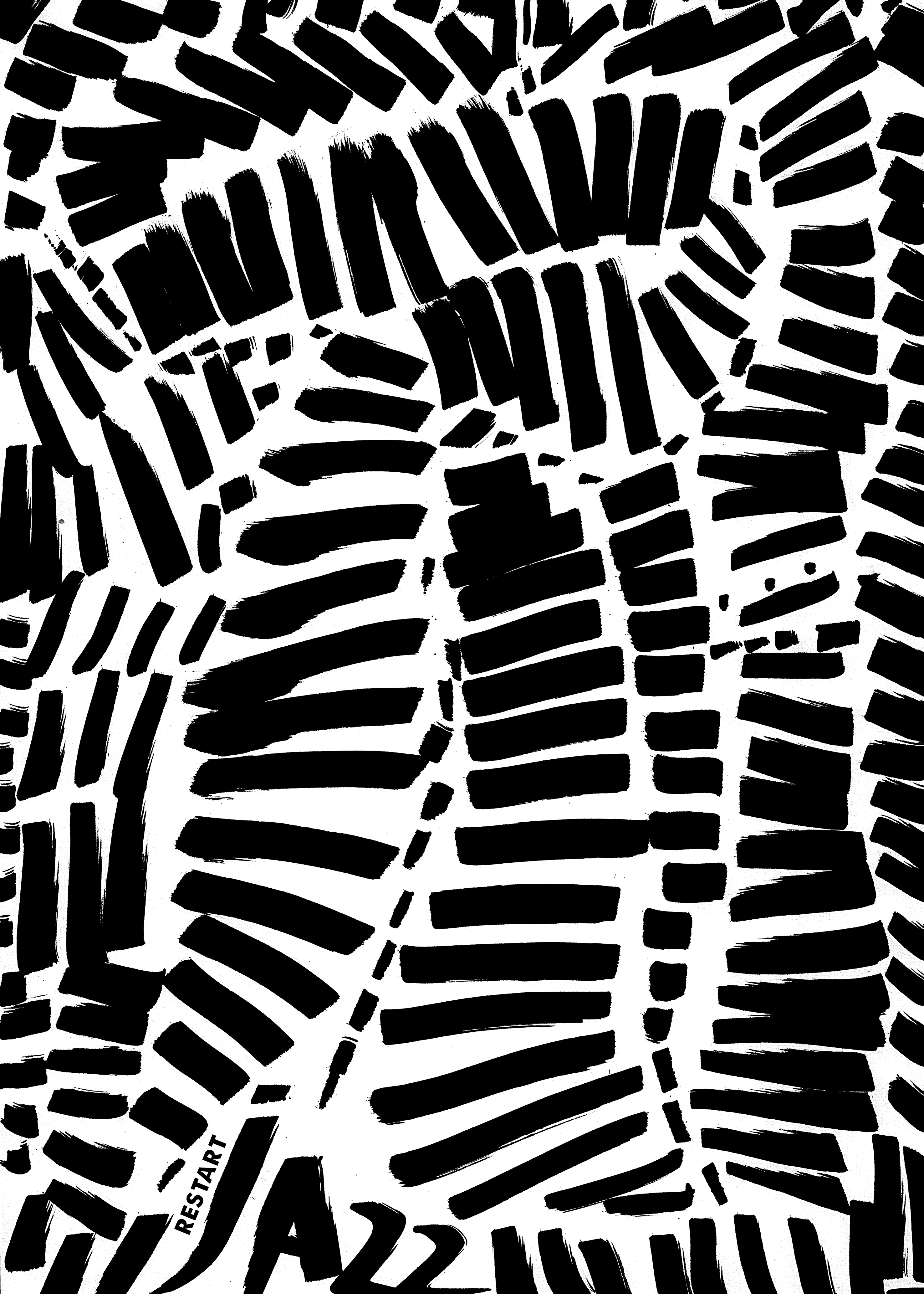 NICOLAS PELLERIN (FR)
"L'expression corporelle est la preuve que la musique est là. Elle saura aussi redémarrer, peut-être maladroitement, peut-être gracieusement, en même temps que la musique."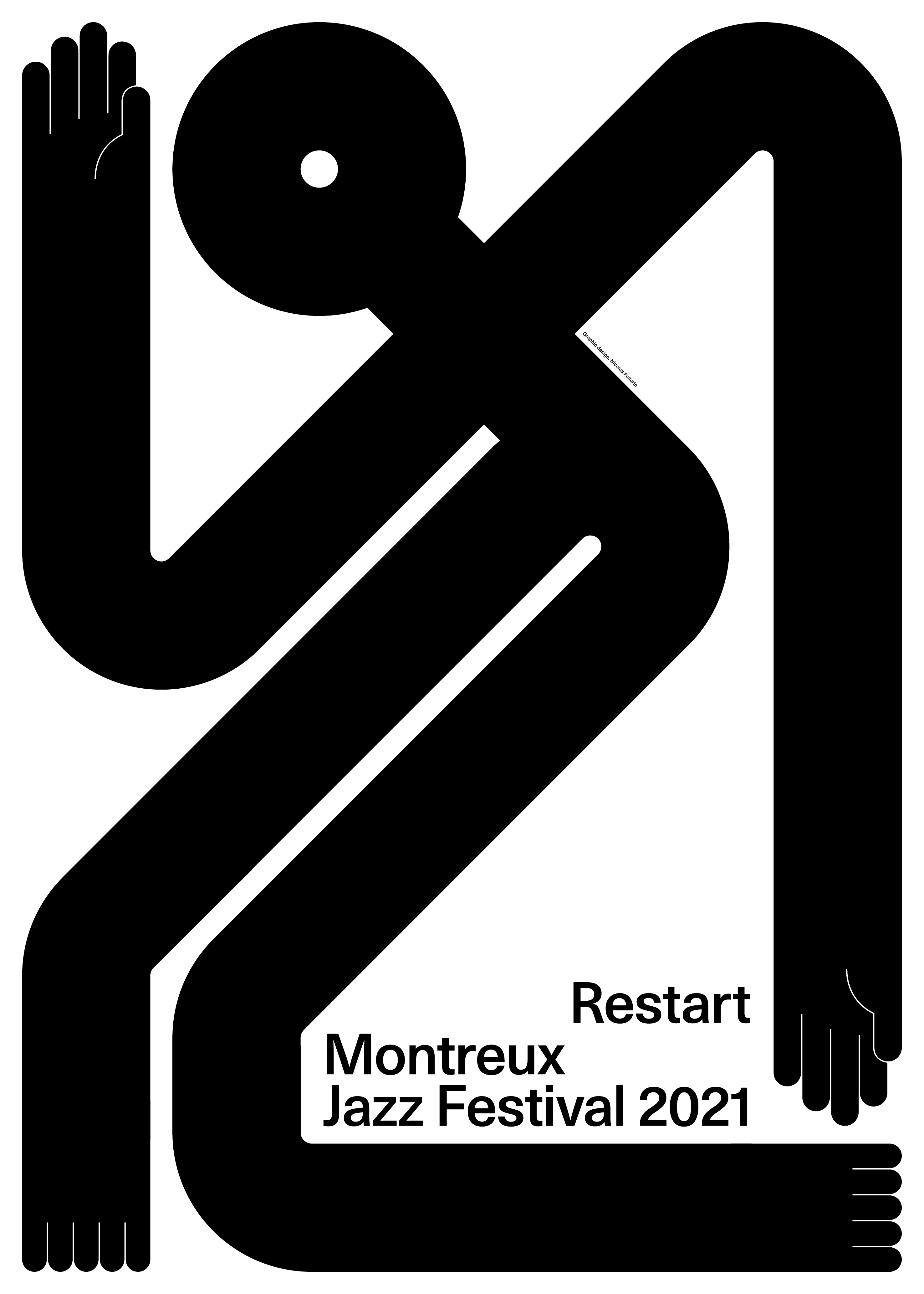 VALERIA PERNICE (IT)
"Restart. Restarting is never beginning from scratch, but moving forward from where we left off. Renewing is progressing while remembering anything we have had to face as people and as a community. From this idea, the poster was born: from an erasure that makes the future more alive."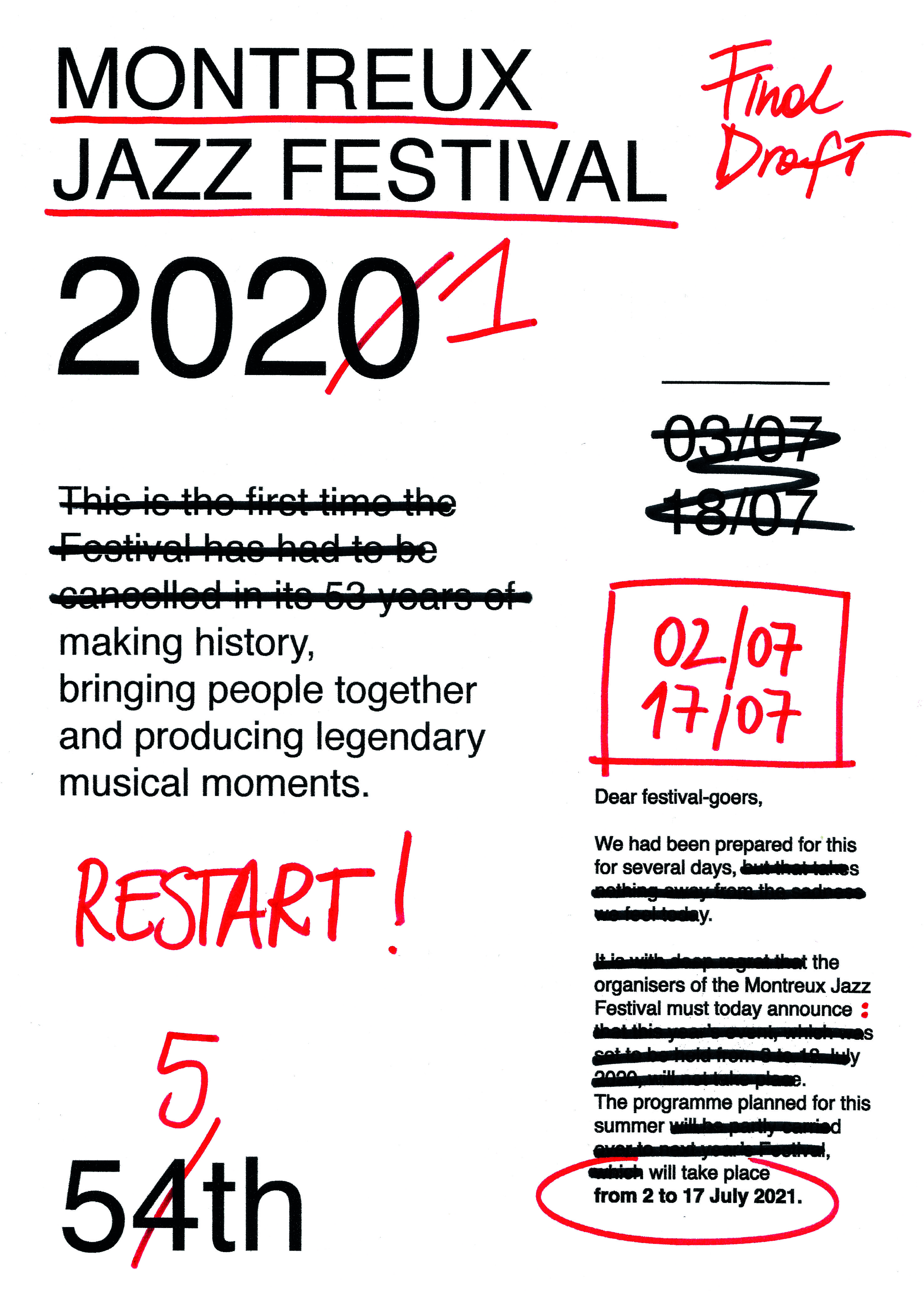 XIAOFENG CHEN (CN)
"The idea of poster was came from tradional Chinese Martial-Arts. I have drawing some movements from Chinese traditional Shaolin Martial-Arts routines about Sword attack technique, then I used quitar to instead the Sword. This is amazing Chinese traditional Martial-Arts, and used it to expression the funny music!"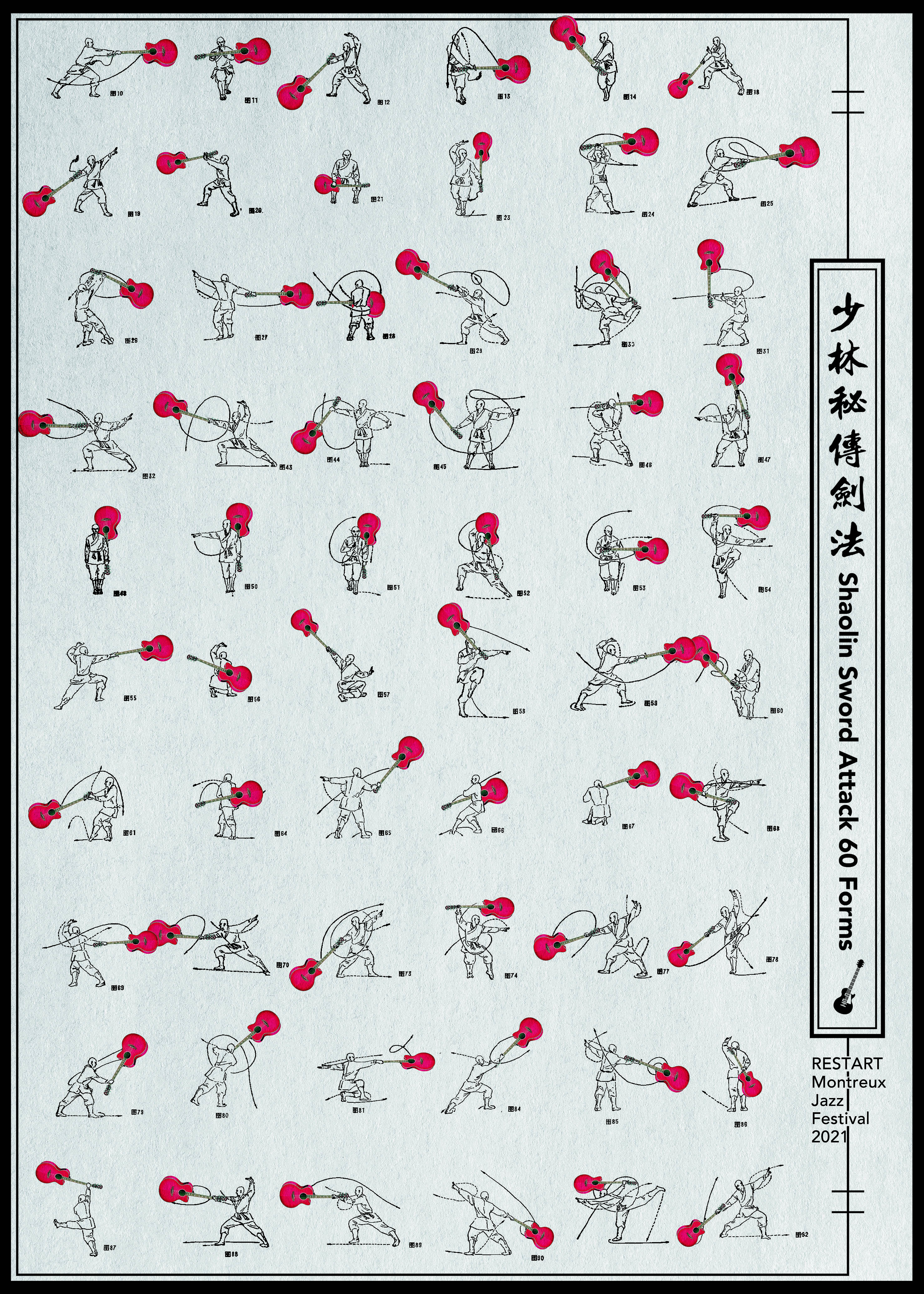 TOP 30
And now discover the 20 other posters that will be exhibited during the 2021 Festival! This top 30 was juried internally by Montreux Jazz Festival and Vaudoise Assurances.