Concerts, DJ sets, screenings, jam sessions, pool parties and more: Montreux Jazz Festival's free programme features more than 450 activities on 11 stages! From 1 to 16 July, enjoy the legendary atmosphere along the quays of Montreux, with its terraces, stands and bars. The packed and varied programme of 11 free stages is aimed at all audiences, with a strong emphasis on emerging artists.
INCLUDING
Aime Simone, Zed Yun Pavarotti, Laufey, Laura Misch, Yuksek, Charlotte Cardin, Mansur Brown, Mentissa, Miel de Montagne, MonoNeon, Moodymann, Nuit Incolore, Saint Levant, Takuya Kuroda, Yaron Herman, Elina Duni, Favé, Bellaire, Veronica Fusaro, Rounhaa, Naomi Lareine, Skee Mask, David Vunk, Major League Djz, Yussef Dayes, Paula Tape…
THE FREE STAGES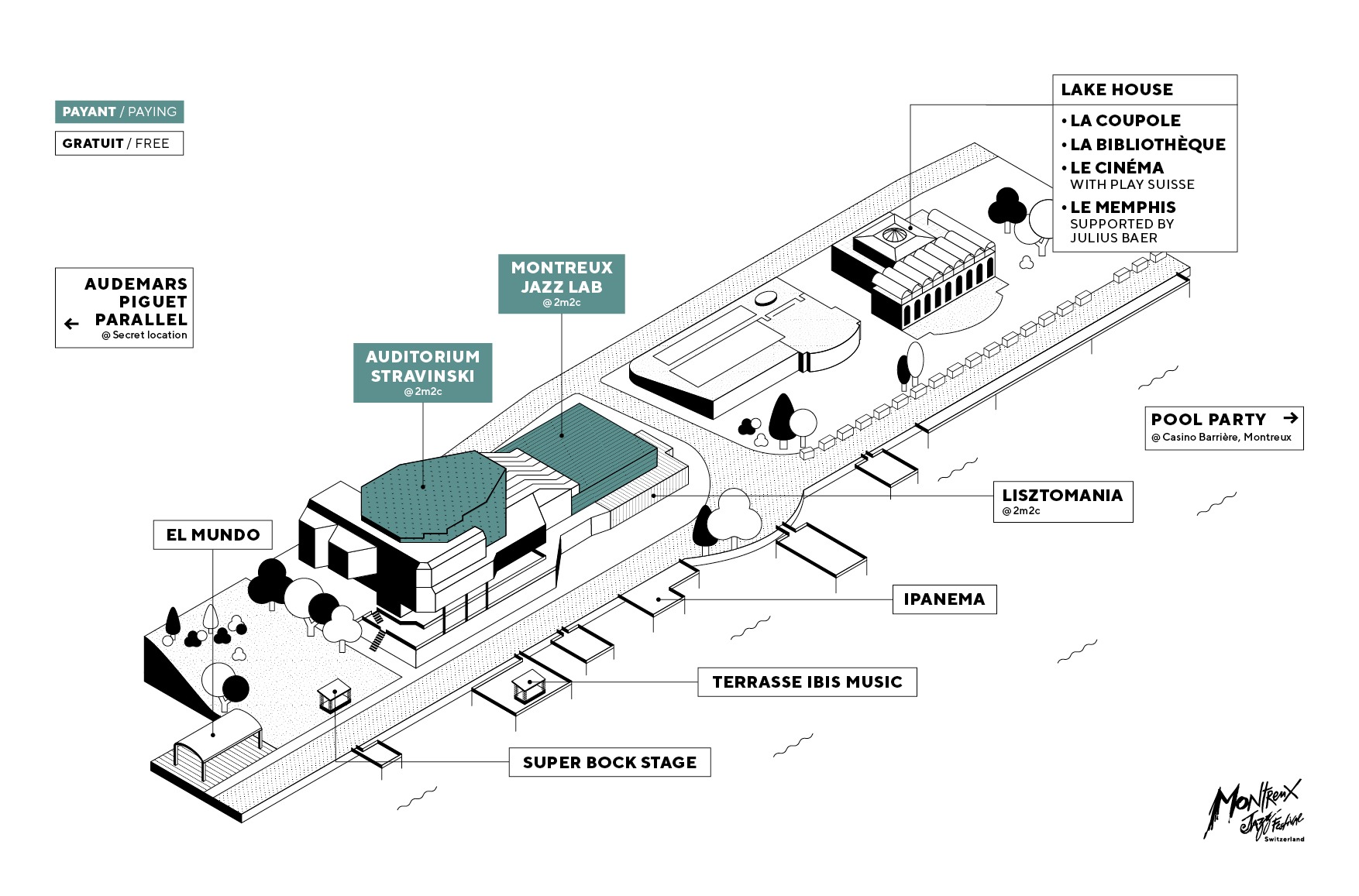 LISZTOMANIA
Created in 2017, Lisztomania pursues its exploration of the most emerging trends, across all styles.
SUPER BOCK STAGE
Parc Vernex is transformed into a Biergarten. The Super Bock Stage offers an eclectic program, both Swiss and international, open to all audiences.
TERRASSE IBIS MUSIC
The atmosphere of the Terrasse ibis MUSIC evolves throughout day: a laidback vibe at the bar during the afternoon, followed by intimate electro-pop live performances in the evening and DJ sets every night.
IPANEMA
A nightclub on the lake, the Ipanema hosts Swiss and international DJs right at the water's edge. The ultimate place to be for partying at sunset or under the stars.
EL MUNDO & POOL PARTY
From dance classes in the afternoon to wild DJ sets in the evening, Latin rhythms and sounds are celebrated every day at El Mundo. Pool Parties are back every Saturday at the Casino's legendary swimming pool, to the beat of sun-soaked DJ sets.
LAKE HOUSE
This large three-storey residence, almost a festival in itself, offers a multitude of musical, cultural and festive experiences. Open from 5pm to 5 am, the Lake House invites you to immerse yourself in its many captivating rooms.
THE MEMPHIS supported by Julius Baer: A jazz club with concerts from emerging artists, workshops and jam sessions
LA COUPOLE: DJ sets with funk, disco, house and urban flavors
LE CINÉMA with Play Suisse: Features a selection of movies, documentaries and concert screenings
LA BIBLIOTHÈQUE: Literary and musical events, book and vinyl record collections
AUDEMARS PIGUET PARALLEL
The Audemars Piguet Parallel experience will once again take place in an unusual, secret location on the Riviera, headlined by British band Metronomy.
THE FREE PROGRAMME IS…
11 free stages
More than 400 concerts, DJ sets and workshops
40% Swiss artists and more than 20 nationalities
2000 m2 of terraces
3 pool parties
2 silent discos
55 food stands and bars